Welcome to The Stable Mat™ web site
How to choose the best rubber stable matting for your stable...

There is no doubt that the summer is now over. Its getting darker earlier and you will soon be putting your horses away for the night. That means it time to sort out their stables. With the cost of bedding rising and the prospect of spending loads of time mucking out and resetting your stables, this may be the time to consider installing a specialist equestrian rubber flooring mat in your stable or stall.
Choosing the best rubber stable matting for your stable can be tricky with so many different stable matting and flooring products available including heavy duty, light weight, recycled and none recycled, porous and none porous, permanently sealed and removable rubber matting and stable flooring. One thing they all have in common is that they are not cheap, so making the right choice is important.
We have been installing rubber matting in professional and domestic equestrian yards, stables and stalls for over 10 years and we can say with confidence that there is only one equestrian rubber flooring mat that we can wholeheartedly recommend and that is the Stable Mat.
The Stable Mat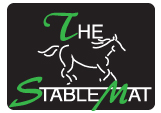 If you are looking for a heavy duty, long lasting, all natural rubber mat that will provide a warmer, healthier and more comfortable environment for your horse and allow you to save time, effort and money in terms of reduced bedding and mucking out then the Stable Mat is the answer.
The Stable Mat™ has been widely used in Canada and the USA for many years and is regarded as the Gold Standard of equine rubber flooring. We have personally had The Stable Mats installed in our stables for over 10 years and can happily say that we have had no problems with the mats. In fact the mats have been relocated and refitted 3 times as we have moved stables, as they have shown so little wear.
---